Celebrities Who Lost and Gained Weight Over The Years
Entertainers are known to thin down and bulk up at the behest of a project. One moment, you'd be seeing them looking oh-so svelte, the next they are as big as bouncers.
They have it easy because they command the attention of a big beauty-support team. As for you, unsupervised dieting can have dire consequences. Crash diets can undermine your immune system and may even harm your heart. On the other hand, bulking up too fast can be harmful to your heart as well as you joints. So you should choose your diet plans wisely.
Take a look at some of the most meteoric morphing successes and failures in show-business:
50 Cent
This hip-hop artist developed a reputation for being beefy in his music videos. Then in May 2010, he publicized pictures of himself looking very gaunt.
From weighing 214 pounds he descended to 160 to prepare for his role as a cancer-stricken man in Things Fall Apart. This transformation took nine weeks.
In September of that year, he looked more like his old self.
Al Roker
Al Roker 2002 weighed 340 pounds; he was a size 60. Al Roker at present weighs around 200 pounds.
Today's weather anchor relied on gastric bypass surgery – at the suggestion of his spouse – to deflate his ballooning frame.
Roker's weight has been undulating all his life. Prior to the surgery, he had seen successes in weight reduction, only to regain them. With his new weight today, Roker keeps off what he lost by watching his meal portions and regularly exercising.
Charlize Theron
Monster, the 2003 film for which Charlize Theron won Best Actress Oscar, required her to fatten up. In the run-up to the shooting, she ate plenty of donuts, giving her 30 pounds. She was spot on as the prostitute-murderer in the movie.
Theron has since reverted to her previous size, as if nothing happened.
Christian Bale
Everyone's favorite Dark Knight wasted away in preparation for his movie The Machinist, in which he portrayed an insomniac.
For the role, he scarcely consumed food and did lots of exercise to lose 63 pounds. From 185 pounds he eventually went down to 122 – very light for his height (6 feet). Still, he took care to take in good, effective supplements to make up for nutritional deficiencies.
He regained weight after the film. But he made himself stick-thin again for boxing drama The Fighter.
Drew Carey
Drew Carey lives with type II diabetes, which makes excess weight a luxury.
Early in 2010, he started going on a diet of fruits, vegetables and protein. In addition he performed 45 minutes of aerobic exercise six times weekly.
He has since lost 80 pounds.
Janet Jackson
Jackson is as infamous for yo-yo dieting as she is legendary for her hit songs. One year, she has a body worthy of complete wardrobe malfunction, the next she's lugging much baggage that isn't wardrobe.
Recently, she fessed up to eating only an apple and a tiny bag of tortilla chips to achieve her smoking-hot body in the "Love Will Never Do (Without You)" music video. Jackson is not taking any more chances nowadays and follows a pescatarian diet. A trainer also helps her get into shape.
Jared Leto
For the film Chapter 27, wherein he portrayed the murderer of John Lennon, Jared Leto gained 60 pounds.
In an interview, Leto admitted he "force-fed" himself to pack on the weight. It left him with a serious foot pain, like gout.
Reflecting on his weight gain, Leto vowed not to do such a thing for an acting project again.
Jennifer Hudson
Her weight loss was a talk of Hollywood in 2010. The Academy and Grammy Award-winning entertainer deliberately dropped being a size 16 in time for the shoot of her movie, Winnie. Here she portrays the slender wife of Nelson Mandela.
Fitness trainer Harley Pasternak was instrumental in Hudson's makeover. The actress reduced her caloric intake by enlisting the Weight Watchers. She is now the program's spokesmodel, at a size 6.
John Goodman
Goodman expanded to an unhealthy 368 pounds in 2007.
The one-time Roseanne did a turnaround, shunned sugar, ignored alcohol, and moved.
He has dropped a hundred pounds since and maintains the achievement with workouts six times a week.
Kelly Osbourne
Ozzy's daughter ate with her emotions, a habit she learned to quit after joining Dancing with the Stars. She by and by reduced 50 pounds because of the dancing exercises and resistance training.
In December 2010 she stunned the public by showing off her new body on Shape magazine.
Kevin Federline
Britney Spears' estranged husband has lost the physique that charmed the pop megastar.
By the time he was 30, he had been hauling a 240-pound weight around.
Federline sidled by VH1's Celebrity Fit Club in 2010 to restore his bodily glory – to no avail.
Kirstie Alley
Alley is reputed for being a yo-yo dieter, losing weight every now and then but regaining it each time. She once swore by Jenny Craig diet plan, which robbed her of 75 pounds. She was also the diet's spokesperson but upon the end of her contract, fat Kirstie came back with a vengeance.
A show revolving around her wavering affair with weight was shown in the mid-2000s. back then she carried more than 200 pounds. In 2008, she vowed to drop 80 pounds. According to her Twitter account, she has already dropped 50.
Michael Moore
Moore removed sugar, refined flour, and salt from his diet and became 70 pounds lighter for doing so.
He also got his new weight by increasing his physical activity to taking half-hour walks daily.
Reports claim the liberal documentary maker was admitted to a weight-loss spa in Florida, first in 2007, second in 2010.
Mo'Nique
Mo'Nique has never been ashamed of her curves.
But when death in the form of high blood pressure came knocking, she was humbled.
She took 45 pounds from her weight in 2009 by quitting red meat, junk food, and fried fare. Once 262 pounds overweight, Mo'Nique is now a healthier size 14.
Nicole Richie
Paris Hilton's BFF was enshrined by skinny girls everywhere in 2006, when she weighed a deadly 90 pounds. She was precariously skin and bones even by showbiz standards then.
So she had herself treated for her size issues, which many suspected to include an eating disorder. Based on latest images of her in newsstands, Richie appears to be a healthier version of herself. Not bad for a mother of two.
Oprah Winfrey
She is not Queen of All Media for nothing as tabloids constantly talk about her weight woes.
Weight is the one thing Oprah Winfrey has no sovereignty over. She has made public one of the reasons: a thyroid problem. But she admitted she used her condition as excuse to eat as she pleased.
Viewers thought she finally defeated her heaviness when she dropped to 160 pounds in the early millennium. In 2008, she yet again breached the 200-pound mark. Two years later, she publicly swore off diets.
Perez Hilton
Blogosphere's self-appointed Queen of All Media is also a heavyweight.
Perez Hilton, Mario Lavandeira Jr. in real life, threw 60 pounds over three years. He did it by taking mere half-hour walks every day, before ramping up to resistance training seven days a week. He also subscribed to healthy meal delivery services.
True to form, he later spun a site off his gossip blog, which he called FitPerez.
Randy Jackson
If you're an avid viewer of American Idol, you might notice that Randy Jackson evolved, weight-wise, throughout the show. In 2002, he carried more than 300 pounds of weight. A year later he underwent gastric bypass surgery, primarily to rein in his diabetes.
This procedure took away 100 pounds, which never returned, thanks to Jackson's commitment to healthy eating. He now eats less processed fare, cuts back on sugary and fatty foods, and finds time to play tennis and walk on the treadmill.
Renee Zellweger
Renee Zellweger practically immersed into the character of Bridget Jones. She piled on 20 pounds for the namesake movie.
Even more remarkable was her thinning in the wake of Bridget Jones. She followed a diet to reduce the weight, which dropped beyond her normal size 4.
Many fans were shocked by the extremes of Zellweger's metamorphosis.
Ricki Lake
Ricki Lake was perfect for the role of fat Tracy Turnblad in the musical Hairspray. For the next two decades, the thespian struggled with her weight.
In 1992, she latched on to a drastic starvation diet, which sucked a whopping 100 pounds out of her. She now maintains a healthy size 6, but only after minding her calorie intake more healthily and subscribing to a fresh-food delivery service.
Ron Lester
Due to his weight, Lester was typecast in obese roles, most notably alongside James van der Beek in Varsity Blues (1999). At his fattest, he weighed 500 pounds.
Now he's a thinner shadow of his former self. In 2000, realizing obesity is compromising his mobility, Ron underwent gastric bypass surgery, which was still a novel procedure that time. He thinned down to 193 pounds but not before he underwent additional procedures to remove excess skin.
Sara Rue
She used to be a size 10.
Jenny Craig diet plan and plenty of running caused the actress to shed 50 pounds and slip on size 6 clothes.
She has since become the spokesperson for the diet center.
Seth Rogen
Comedian Seth Rogen thought it unfunny to constantly haul weight around.
Within nine months of enlisting celebrity trainer Harley Pasternak, Rogen chucked about 30 pounds.
It was the incunabula of a healthy lifestyle for him.
Star Jones Reynolds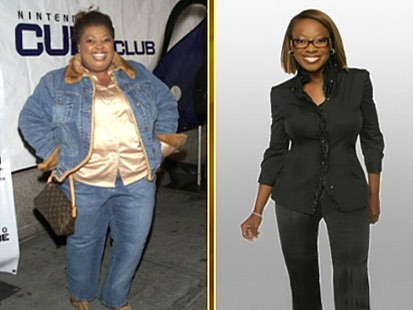 In 2007, the ex-host of The View owned up to undergoing bariatric surgery. Three years beforehand, observant fans noticed her taking off lots of weight. By the time of her admission, she had lost 160 pounds.
Gastric bypass surgery is not for everyone though. Reverting to an unhealthy diet after the procedure leads to weight regain. However, this procedure is very much available for obese patients.
Valerie Bertinelli
Like Kirstie Alley, Valerie Bertinelli served as a poster girl for Jenny Craig diet plan. After joining the program in 2007, she took 50 pounds off her 172-pounds weight.
She has not regained that mass since. She has remained around 128 pounds by monitoring her portions and constantly moving.
She famously ran the Boston Marathon in 2010.
Conclusion
These celebrities have all proven one thing: You can contrive to become fatter and thinner. There may not be a movie contract lying in wait for you after working out for months. But you'd look more like a movie star nonetheless.
Some of these celebs may not have admitted it but they have turned to diet pills for help. Get the ones proven to be effective and safe. They make for a less drastic alternative to surgery any time.